Back to Blog
Blue Sky's Ahead for Blue Sky
Blue Sky's Ahead: Blue Sky Hemp Ventures pursue commercial opportunities
By Jonathan Hamelin - Originally published in Global Ventures
For years, Andrew Potter has felt there were blue skies ahead for industrial hemp.
Potter is the president and CEO of Blue Sky Hemp Ventures Ltd., incorporated in Alberta in 2017 to pursue commercial opportunities for industrial hemp: a strain of the Cannabis sativa plant species that is grown specifically for the many industrial uses of its derived products.
"I first became familiar with industrial hemp while I was in university – some 20-plus years ago – and at the time I concluded there was no commercial opportunity but was in awe of the immense potential of industrial hemp and that never left me," Potter said.
"After leaving a successful career in the finance and energy sectors, I decided i wanted to pursue something more entrepreneurial and that could make a difference to the world. Once I started brainstorming, industrial hemp came flooding back to me."
Before starting the company, Potter reached out to a former colleague, Mike Rimell (currently the company's chief financial officer). The pair spent eight months exploring the commercial opportunities of industrial hemp and talking to other hemp companies. Looking to add an agricultural expert to the team, Potter reached out to his wife's cousin, Wilson Johnston, to serve as the chief operating officer. Johnston is a long-time farmer and well-known agronomist. Potter said it wasn't a tough sell.
"After about five minutes of explaining the opportunity to him, Wilson was already bought in," Potter said. "For years, Wilson has watched small- to medium-sized farms struggle to complete. He immediately saw an opportunity to bring a high-value crop to farmers and felt that if we successfully built a 'hemp system' that could make use of the full plant, this could be instrumental in terms of adding jobs in small communities. Additionally, he was very excited about the concept of having our farming partners as shareholders so they can realize more value than just selling us grain/biomass."
With a business concept and the agronomic expertise in place, the next piece was adding someone with the acumen to navigate the difficult world of trying to contract an emerging crop and the ever-changing regulatory environment. Enter Devin Dubois, Wilson's business partner in a digital-based agricultural software company which BSHV's employs. Blue Sky has since expanded the team to encompass 17 talented individuals with plans to increase staffing to approximately 25-30 people over the next 12 months.
Blue Sky focuses its operations on the three distinct value chains of industrial hemp.
The first is the "superfood" value chain, which sees Blue Sky take the hemp grain and turn it into de-hullled seed (also known as hemp hearts), hempseed oil and protein powders/flours. Potter noted that hemp is the "ultimate superfood" as it contains more protein and omegas than other plant-based sources such as flax or chia and has far fewer carbs.
The second value chain is cannabidiol (CBD). Potter said interest in CBD is "exploding" due to the large number of potential health applications. The CBD market is projected to be worth more than $20 billion by 2022, largely driven by increased knowledge of health applications and easing of regulations domestically, and abroad. There are a large number of health applications ranging from anxiety to depression, inflammation, acne, sleep disorders, heart disease and pain management.
Lastly, there's the industrial products value chain, which primarily comes from the stalk of the hemp plant. Potter said that once separated, the stalk has a very high-value fibre which can be used in a range of industrial applications from rope and textiles all the way to use in bioplastics.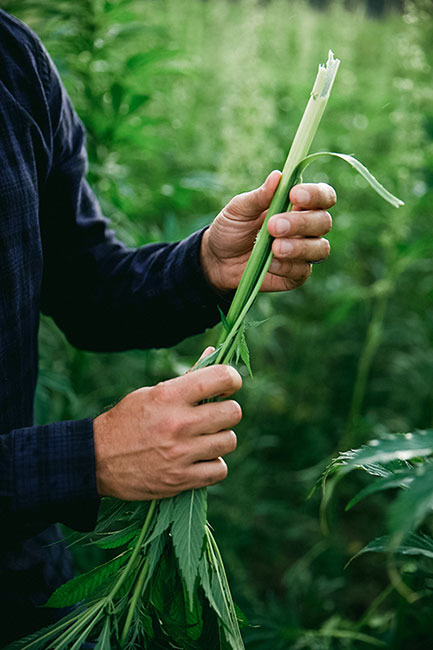 Potter said factor that makes Blue Sky stand out in the market is the company's focus on whole plant utilization.
"Most companies entering the hemp sector right now are focused exclusively on CBD as that is where the greatest profit potential is at the moment," Potter said. "While there is nothing wrong with this approach, we believe our approach of monetizing the full plant will allow our company to be the low-cost producer while minimizing the environmental impact."
Potter noted that there are many environmental efficiencies associated with Hemp farming. Hemp enriches the soil, tolerates a wide variety of climates and requires no pesticides. One hectare of industrial hemp can absorb 22 tonnes of CO2 per hectare and it's easy to double absorption since it's possible to grow two crops per year. Hemp's rapid growth (grows to four metres in 100 days) makes it one of the fastest CO2-to-biomass conversion tools available. Hemp can be grown to harvest on about half as much water as corn can.
Potter said that one of the Blue Sky's greatest successes so far is designing a very unique approach to broad-acre farming CBD.
"A challenge with hemp varietals in Canada is that they are generally quite low CBD potency and fairly costly to extract from," Potter said. "Blue Sky has is developing a unique system to address the many challenges of broad-acre farming for CBD. Our planned commercial expansion is expected to facilitate up to 4,500 tonnes of hemp biomass per year.
"In addition, our end-to-end processing facilities mean that we will have oversight and quality control on the entire process from seed selection to extraction. Blue Sky is GMP certified and is applying for EU-GMP certification - the most rigorous standard for manufacturers of medical products. The result is lower transportation costs, higher CBD potency, quality guaranteed, and competitive prices."
Potter said growth is on the horizon for Blue Sky. The company's main facility, where the company currently de-hulls hemp seed, is located in Saskatoon. The company will soon be starting construction on a major build-out of the facility to incorporate hemp seed oil pressing, protein milling and CBD extraction.
Blue Sky pre-conditions the hemp biomass offsite to prepare it for extraction and separates the stalk of the plant to separate the hemp fibre from hurd for industrial applications. This has been in demonstration mode for the past four months and the company is preparing for significant expansion. The company expects these projects to be completed by late fall 2019.
"Now that completion of our first facility is in sight, we are starting to shift our focus toward global expansion," Potter said. "Our vision from the outset was to establish a global network of hemp facilities focused on whole plant utilization. As such, we designed a facility that was large enough to gain the majority of economies of scale but that was also small enough so that we could locate facilities in small towns close to the farmers."
Blue Sky has been a member of STEP for a few months. As the company expands its operation, it's excited by the potential it sees in the membership as it grows
"We are already seeing the benefit of working with STEP to reduce our trade spend while increasing exposure," Potter said.
Some people associate industrial hemp and marijuana together because they both come from the Cannabis family. Potter said it's important to understand that industrial hemp has a legal definition because the plant has been bred to contain less than 0.3% THC (the psychoactive substance found in marijuana). He said industrial hemp also has a wide range of applications, while marijuana is used primarily for the medicinal value of THC and CBD.
In the past, hemp production has been blocked due to laws targeting marijuana. Potter said the legalisation of marijuana in Canada on Oct. 17, 2018 has had a mixed effect on Blue Sky's operation.
"The legalization has been positive in the sense that exploding publicity for marijuana has had a spillover impact to drive interest in industrial hemp," Potter said. "On the other hand, I believe that politicians are so focused on marijuana legalization that they have completely missed the broader hemp opportunity."
About Blue Sky Hemp Ventures
Blue Sky Hemp Ventures provides a range of sustainable, high-quality, and exceptional value wholesale hemp products throughout North America and around the globe. Established in 2017 in Rosetown, Saskatchewan, Blue Sky is GMP-certified and expects to achieve EU-GMP certification, the most rigorous standard for producers of medical products, by 2020.
Blue Sky Hemp Seed, Oil, and Protein Powder are available now. CBD will be available in early 2020.


Back to Top